SliderMouse Pro and Balance Keyboard
Discover the ultimate ergonomic pair for optimizing your work health
Embrace a proactive approach to your well-being during work hours with the SliderMouse Pro, a modern computer mouse designed to provide unparallel comfort and ergonomics. All essential controls, including cursor navigation, programmable buttons, and a spacious scrolling wheel, are conveniently centralized right in front of you, preventing any need for stretching, twisting, or straining.
Personalize the SliderMouse Pro effortlessly to suit your preferences with its magnetic wrist rests, available in various sizes and materials. Its innovative design ensures your hand and wrist maintain a natural position, while the navigation bar facilitates precise cursor control without requiring repetitive hand movements. The integrated copy/paste buttons streamline text and image transfers between applications, and dedicated forward/backward navigation buttons make web browsing a breeze. 
The perfect keyboard for the perfect mouse
Complement the SliderMouse Pro perfectly with the Balance Keyboard BK. This keyboard is an ideal companion that promotes a healthy working posture by keeping your arms correctly positioned in front of your body. Despite its compact form, this keyboard retains all the functionalities of a full-size model, complete with shortcut and media keys, as well as a numeric keypad. Additionally, you have the flexibility to choose between negative, neutral, or positive tilt options, tailoring the inclination to suit your specific needs.
What's the benefits of a centred mouse?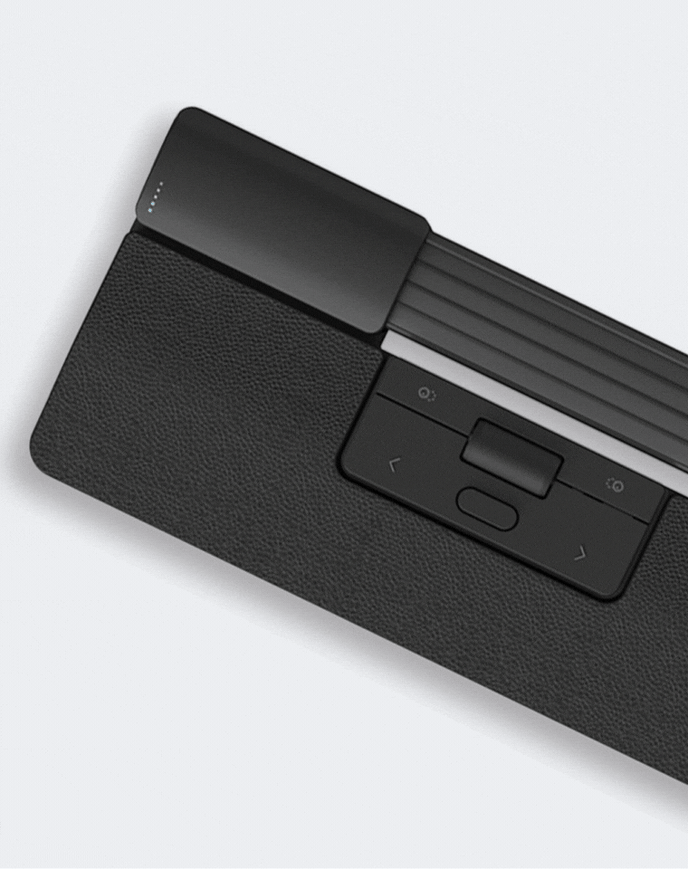 Two hands are better than one to avoid injuries and strains 
Benefit from the advantages of a cantered mouse, which places your arms in a natural position, alleviating tension on shoulders, arms, and elbows. This improved ergonomic working stance allows for variation, with the ability to use both your right and left hand for cursor navigation while delicately controlling the clickable Rollerbar with your fingertips.
All essential functions are conveniently within reach, creating a focused "primary work zone."
Individual needs, individual solutions 
Individuality is at the heart of this ergonomic duo. Customize your SliderMouse Pro to match your personal preferences using the unique magnetic wrist rests, easily switching between various models. Choose from vegan leather, fabric, or natural Bamboo in three different sizes.
The vegan leather option boasts an antibacterial surface and excellent alcohol resistance, enhancing hygiene. Fine-tune your settings by adjusting click sounds, cursor speed, and click resistance until you find the perfect setup that suits you best.
explore rollermouse pro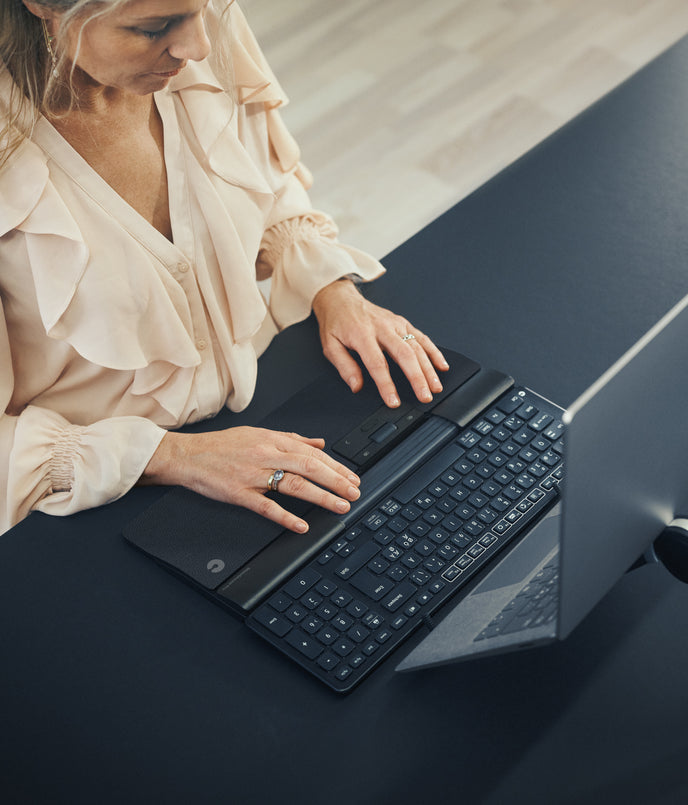 Plug & Play installation with a dedicated software driver for customisation 
Connect the SliderMouse Pro and Balance Keyboard BK to your PC or Mac and experience the difference immediately. Customize the programmable buttons to your favourite shortcut functions with the free software driver for both Windows and MacOS.
Get the driver